My Account
The Dashboard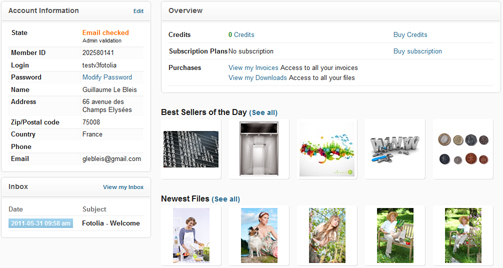 The dashboard has been designed to offer you quick access to all your services and options.
Account Information
Summary of your personal information. Confirmation emails can re-sent from this section.
Inbox
See all your new emails in a glance.
Overview
Summary of all your services (Credits and Subscription). From this section, you can access all your invoices and your downloaded files in one click. If your account has no service, you also can access the purchase pages from this section.
Images Selections
Image selection from our best sellers of the day and the newest files!
The switch button

Since our website is dedicated to image buyers and contributors, we added this to allow you to switch from one mode to another.
Note: by default, the switch is in customer mode.